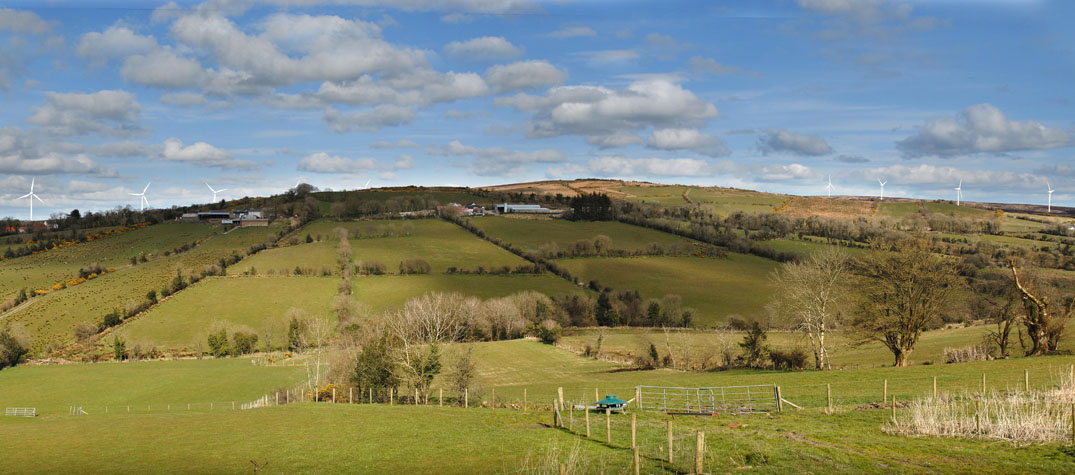 Pigeon Top
Project:
Nine turbine wind farm
Location:
1800m north east of Cornavarrow Road, Dooish, Drumquin, Omagh, Co. Tyrone, Northern Ireland
Irish Grid:
235683, 369671
Altitude:
145 m – 235 m ASL
Capacity:
20.7 MW – 27 MW
No. of Turbines:
9
Turbine Config:
Hub Height – up to 85m
Rotor Diameter – up to 103m
Overall Height – up to 126.5m
Rating – 2.3 MW – 3.0 MW
Planning Status:
Granted planning permission 15 November 2012 (Planning Ref: PAC 2009/A0265) for 9 x 2.3 MW turbines at 64m hub height, 71 m rotor diameter, 99.5 m overall height
Planning amended 21 December 2015 (Planning Ref: K/2011/0592/F) to comprise 9 x up to 3 MW turbines at up to 85 m hub height, up to 103 m rotor diameter, not to exceed 126.5 m overall height
Turbine model/type discharged at up to 103 m rotor diameter, overall height not to exceed 126.5 m, 11 May 2018
Current Status:
Build ready, subject to finalising grid connection
Resources:
Non Technical Summary and Supplementary Information
Location:
The site is located within the townlands of Legphressy, Segully and Unishinagh near to the summit of Pollnalaght in an area known as Pigeon Top. This is located approximately 8.5km south west of Omagh, County Tyrone. The proposed development area consists mostly of upland farmland and moorland, with the turbines located at elevations between 145m – 235m above sea level (ASL) in two separately accessed flanks – turbines T1 – T4 in the Southern flank and turbines T5 – T9 in the Northern flank.
Summary:
The Pigeon Top project was originally refused planning permission for nine wind turbines on visual and cumulative impact grounds on 03 December 2009 and an appeal was immediately lodged by TCI Renewables with the Planning Appeals Commission (PAC) in Belfast in December 2009. An informal hearing was heard at Strule Arts Centre in Omagh on 15 September 2010 whereby the project was subsequently granted planning permission by the PAC on 13 December 2010.
Environmental and Economic Benefits:
The wind farm will produce a net saving of approximately 22,900 tonnes of CO2 per annum through displacement of fossil fuel fired electricity generation. Over the 25 year life of the wind farm it will displace, at current comparisons, approximately 570,000 tonnes of CO2. Based on British Wind Energy Association figures for average annual UK household electricity consumption of 4,700 kWh, the wind cluster will provide the equivalent electricity for approximately 11,500 homes per year.
A post-planning consent community benefit programme has been volunteered for the operational life-time of the project to comprise an index linked annual community fund of £2,500 per MW of installed generation together with an annual beneficiary payment of £500 to each of those residential properties located within 1 km radius of the project in thank you to their past, present and future embracement of the project. A further £10,000 of annual sponsorship monies will be provided for allocation across local community groups.
An estimated £4 million will also be spent in the local economy on; development, financing, legal arrangements, delivery, construction, materials, plant and auxiliary equipment.
The development also comprises three local land owners each of whom will also benefit financially from the development by way of annual income from the sale of electricity into the All-Island market throughout the projects lifetime – such diversification also allowing them to maintain their current agricultural land use. The delivery of the wind farm will also bring with it an environmental enhancement plan to help improve and regenerate the flora, fauna and habitat of the upland land mass hosting the turbines.
Planning Applications:
Copies of the respective planning applications and associated discharge of turbine type can be inspected free of charge (by prior appointment only) at the Department of Infrastructure's Planning Service Headquarters and Fermanagh & Omagh District Council offices at:
Department for Infrastructure
Planning Service
Clarence Court
10-18 Adelaide Street
BELFAST
BT2 8GB
T: 0300 200 7830
and
Fermanagh & Omagh District Council
Planning Department
16 High Street
OMAGH
BT78 1BQ
T: 0300 303 1777
Alternatively, electronic copies may be obtained in CD format by contacting TCI Renewables Limited