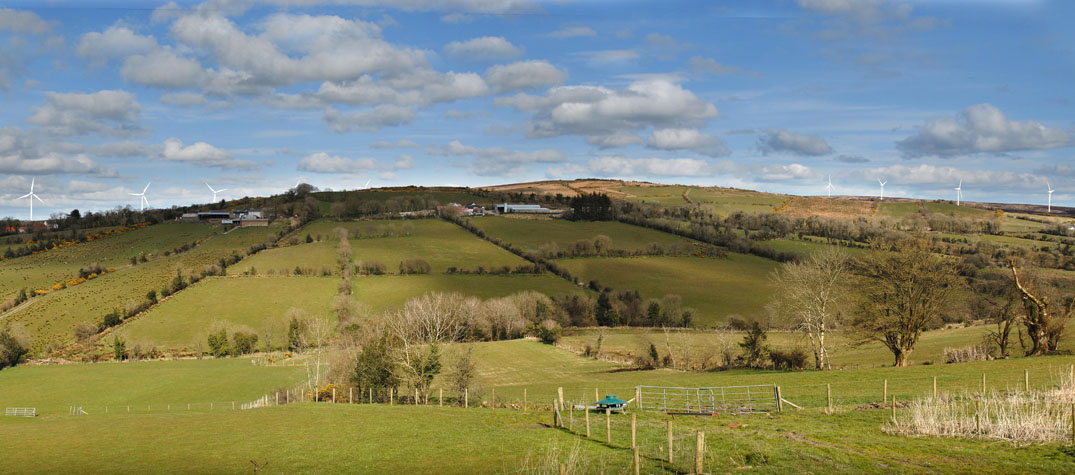 Pigeon Top
Project: Nine wind turbines (20.7MW total)
Location: 1800m north east of Cornavarrow Road, Dooish, Drumquin, Omagh, Co. Tyrone, Northern Ireland
Turbine: 2.3MW Enercon E70
Dimensions: 64m hub height, 35.5m blade length, 99.5m overall height
Status: Granted planning approval by Planning Appeals Commission on 13th December 2010
Resources: Non Technical Summary
Location:
The site is located within the townlands of Legphressy, Segully and Unishinagh near to the summit of Pollnalaght in an area known as Pigeon Top. This is located approximately 8.5km south west of Omagh, County Tyrone. The proposed development area consists mostly of upland farmland and moorland, with the turbines located at elevations between 145m – 235m above sea level (ASL). The peak ridge at Pigeon Top is located at 298m ASL, so the turbines are placed well below the highest peak in the landscape view.
Summary:
The application was refused planning permission on 03rd December 2009 and an appeal was lodged with the Planning Appeals Commission in Belfast in December 2009. An informal hearing was heard at Strule Arts Centre in Omagh on 15th September 2010 and the project was subsequently granted planning permission on 13th December 2010.
The proposed development consists of nine wind turbines, substation buildings, temporary site compound, site access tracks, existing track upgrade, site entrance works, two permanent met masts and associated underground electric cabling.
The development has a life expectancy of 25 years, generating electricity fed back into the national grid system and sold to a third party.
Environmental and Economic Benefits:
The wind farm will produce a net saving of approximately 22,900 tonnes of CO2 per annum through displacing fossil fuel fired generation. Over the 25 year life of the wind farm it will displace, at current comparisons, approximately 570,000 tonnes of CO2. Based on British Wind Energy Association figures for average annual UK household electricity consumption of 4,700 kWh, the wind cluster will provide the equivalent electricity for approximately 11,500 homes per year.
An estimated £4,000,000 will be spent in the local economy on; development, financing, legal arrangements, delivery, construction, materials, plant and auxiliary equipment.
Three land owners are involved in this development, each of whom will receive an annual income from the sale of electricity from the wind turbines for the lifetime of the project. A wind farm offers farmers an option for diversification for lands which are typically upland grazing, marginal in quality and offering relatively poor returns.
Planning Application:
Submitted to Belfast Planning Service Headquarters Special Studies Division in January 2009. The application was supported by a full Environmental Impact Assessment of the site and the development.
Copies of the planning application and the environmental documents may be inspected free of charge at the following places:
Planning Service
Millennium House
17-25 Great Victoria Street
Belfast
BT2 7BN
(028) 9041 6700
(Strictly by appointment only)
Omagh District Council
The Grange
Mountjoy Road
Omagh
Co. Tyrone
BT79 7BL
(028) 8224 5321
(Viewing by appointment only)
Omagh Library
1 Spillars Place
Irishtown Road
Omagh
Co. Tyrone
BT78 1HL
(028) 8224 4821
Drumquin Development Association
Drumquin Enterprise Centre
8a Castlederg Road
Drumquin
Co. Tyrone
BT78 4PH
(028) 8283 1821
Printed copies of the Non-Technical Summary (NTS) and the Environment Statement (ES) may be obtained from TCI Renewables Limited