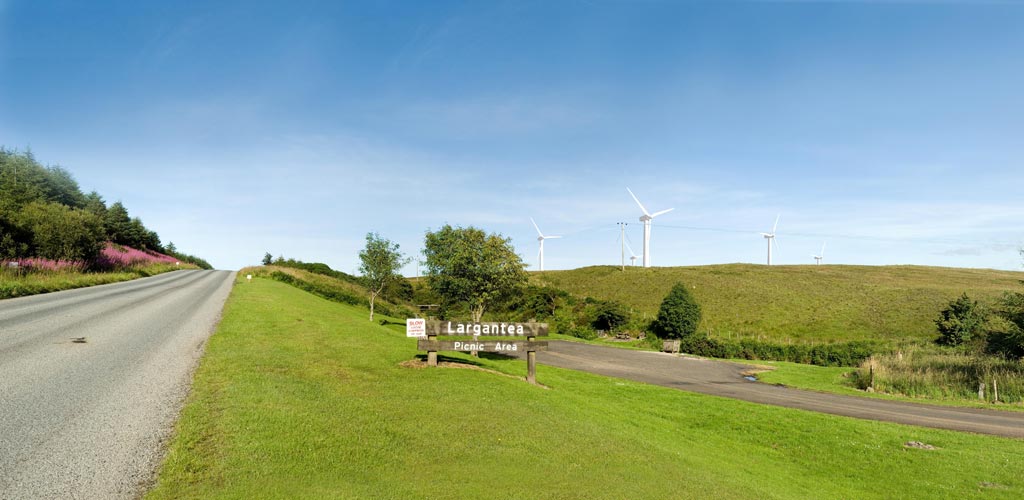 Dunmore
Proposal: 7 Wind Turbines (21MW) and a permanent anemometer mast
Location: Dunmore Town land, Limavady, Co Londonderry, NI
Turbine: Vestas V90 3.0 MW
Dimensions: Hub height 80m, blades 45m, overall height 125m
NGR: 275150E, 428450N (lat 55.09762663N, long 6.82266965W)
Status: Granted planning approval by Planning Appeals Commission on 29th October 2010
Resources: Non Technical Summary
Location:
The proposed development site is predominately upland moor used for sheep-grazing in the town land of Dunmore approximately eight kilometres north east of Limavady, County Londonderry.
Summary:
The proposed development originally consisted of 8 wind turbines, one permanent anemometer mast, substation, compound, temporary construction area and associated cabling. The application was refused planning permission on 29th April 2009 and an appeal was lodged with the Planning Appeals Commission in Belfast on 19th May 2009. One turbine was omitted from the scheme prior to the planning appeal hearing reducing the scheme to seven turbines. An informal hearing was heard at Limavady Borough Council on 23rd May 2010 and the project was subsequently granted planning permission on 29th October 2010.
The development has a life expectancy of 25 years, generating electricity fed back into the national grid and sold to a third party.
Environmental and Economic Benefits:
Over the 25 year life of the wind farm it would displace, at current comparisons, approximately 1,000,000 tonnes of CO2. the wind farm will generate enough renewable electricity to power the equivalent of 12,600 homes.
This project is expected to cost up to £30 Million with an estimated £3,000,000 being spent in the local economy on; development, financing, legal arrangements, delivery, construction, materials, plant and auxiliary equipment.
TCI Renewables propose a substantial community fund of c £35000 per annum paid into an independently monitored and audited scheme run by an organization such as The Community Foundation for Northern Ireland, this equates to £875,000 pounds over the lifetime of the wind farm proposal.
A single land owner is involved in this development, who will receive a significant annual income from the sale of electricity from the wind turbines for the lifetime of the project. A wind farm offers farmers an option for diversification for lands which are typically upland grazing, marginal in quality and offering relatively poor returns.
Planning Application:
Submitted to Belfast Planning Service Headquarters Special Studies Division on December 12, 2007. The application was supported by a full Environmental Impact Assessment of the site and the development.
Copies of the planning application and the environmental documents may be inspected free of charge at the following places:
Planning Service
Millennium House
17-25 Great Victoria Street
Belfast
BT2 7BN
(028) 9041 6700
(Strictly by appointment only)
Limavady Borough Council
7 Connell Street
Limavady
Co. Londonderry
BT49 0HA
(028) 7772 2226
(Viewing by appointment only)
Limavady Library
5 Connell Street
Limavady
Co. Londonderry
BT49 0EA
Printed copies of the Non-Technical Summary (NTS) and the Environment Statement (ES) may be also be obtained from TCI Renewables Limited.