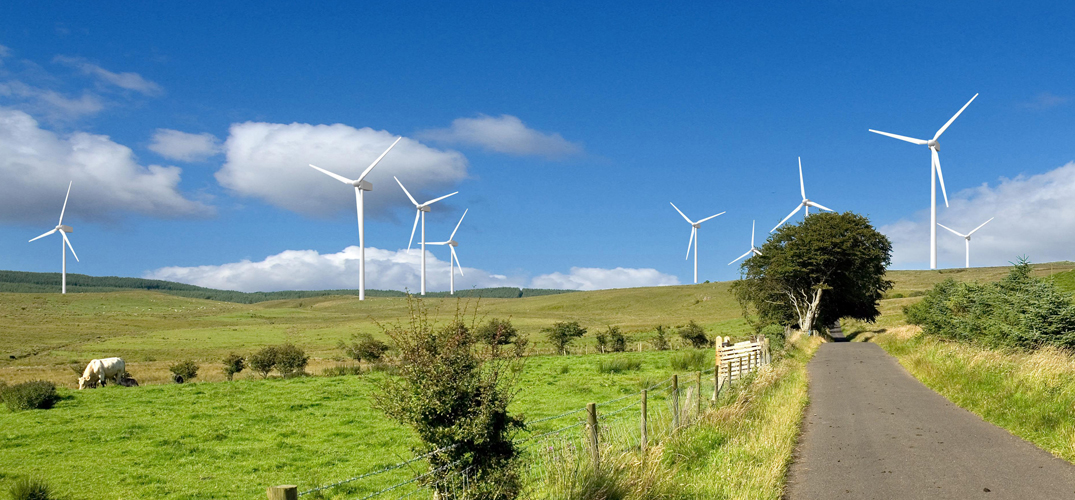 Dunmore 2 Wind Farm
Project: Eight wind turbines (up to 24 MW total)
Location: Close to the junction of Windyhill Road/Bolea Road, Limavady, Co. Londonderry, Northern Ireland
Turbine: up to 3MW
Dimensions: up to 85m hub height, up to 93m rotor diameter, 126m overall height
Irish Grid: 274509, 428433 (Geographic (WGS84): 55.0976, -6.8337)
Status: In planning. Application submitted in October 2013
Resources: Non Technical Summary
Location:
The proposed development site is located immediately adjacent to the approved Dunmore Wind Farm (Ref.: B/2007/0563/F), on an area of rough, upland grazing pasture on the western side of Formoyle Hill, approximately 8km North East of Limavady, County Londonderry.
Summary:
The proposed development is an extension to the approved Dunmore Wind Farm, comprising 8 turbines, up to a maximum of 126m tip height, associated transformers, 2 permanent anemometer masts, communication tower, extension of existing tracks and construction of new site access tracks, temporary amendments to the junction of the Bolea Road and Windyhill Road, gates, substation and site control room, electrical cabling, a temporary site compound, two site entrances, minor road improvement works on Bolea Road and all other associated and ancillary works. The development has a life expectancy of 25 years, generating electricity which will be fed back into the national grid system and sold to a third party.
Dunmore 2 Wind Farm Ltd. c/o TCI Renewables, commissioned various detailed independent technical studies to be carried out between 2012 and 2013 to assess the potential for the proposed development to impact on a wide range of environmental aspects. Full ecology studies, including birds, bats, flora & fauna, noise studies, landscape and visual impact assessments, shadow flicker analysis, geology, hydrology and archaeological assessments were carried out. The findings of these surveys are presented within the Environmental Statement which accompanies the application, submitted to the Renewable Energy Team, of the Strategic Projects and Design Division, based at the Planning Service Headquarters in Belfast.
Environmental and Economic Benefits:
The wind farm will produce a net saving of approximately 26,940 tonnes of CO2 per annum through displacing fossil fuel fired generation. Over the 25 year life of the wind farm it will displace, at current comparisons, approximately 673,504 tonnes of CO2. Based on British Wind Energy Association figures for average annual UK household electricity consumption of 4,700 kWh, this development will provide the equivalent electricity for approximately 13,752 homes per year.
An estimated £24.8 million will be spent in the delivery of this project and of this, an estimated £3.72 million will be spent in the local economy in project development, financing, legal arrangements, delivery, construction, materials, plant and auxiliary equipment. A wind farm offers farmers an option for diversification for these uplands which are marginal in quality and currently offer relatively poor returns under their current animal grazing landuse. The proposed Dunmore 2 Wind farm will be on lands owned by two private land owners, each of which will receive an annual income from the sale of electricity from the wind turbines during the lifetime of the project.
Planning Application:
Submitted to Belfast Planning Service Headquarters, Renewable Energy Team in late October 2013. The planning application was accompanied by a full Environmental Impact Assessment.
Copies of the planning application and the environmental documents may be inspected free of charge at the following places:
Planning NI
Planning Service Headquarters
Millennium House
17-25 Great Victoria Street
Belfast
+44 (0) 28 9041 6700
(By appointment only)
Limavady Borough Council
7 Connell Street
Limavady
BT49 0HA
+ 44 (0) 28 7772 2226
(By appointment only)
Limavady Library
5 Connell Street
Limavady
BT49 0EA
+ 44 (0) 28 7776 2540
Printed copies of the Non-Technical Summary (NTS) and the Environment Statement (ES) may be obtained from TCI Renewables Limited.