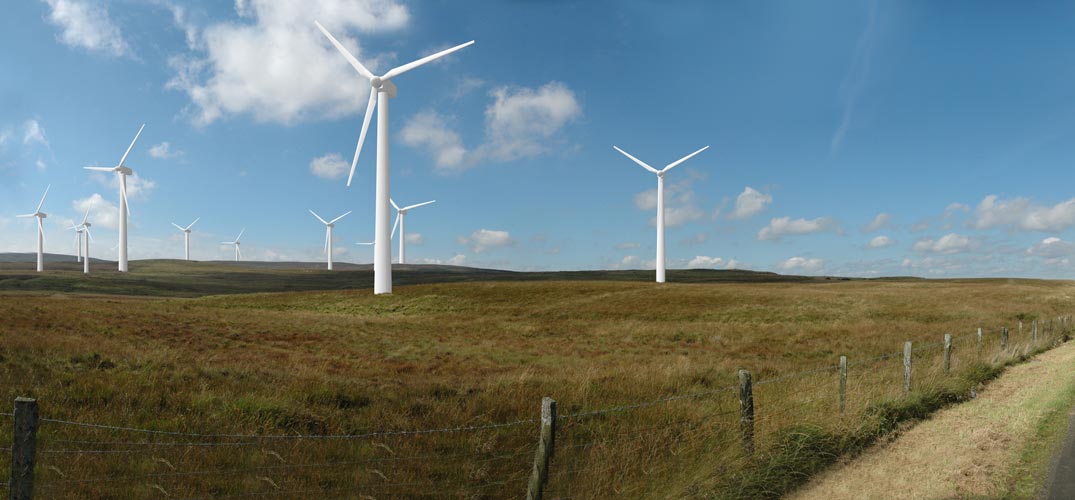 Brockaghboy
Proposal: 15 wind turbines (45MW) 2 permanent anemometer masts
Location: Brockaghboy Townland, Garvagh, Co Londonderry
Turbine: Vestas V90 3.0 MW
Dimensions: Hub height 80m, blades 45m, overall height 125m
NGR: 281300E, 410625N (lat 54.9365415N, long 6.73141192W)
Status: Planning permission granted 12th January 2012
Online Resources: 
Non-Technical Summary
FEI Non-Technical Summary
Location:
The proposed development site is predominantly grassland/scrub/heath and bogland used for sheep-grazing located on Ashlamaduff Hill approximately five kilometres from the town of Garvagh in County Londonderry.
Summary:
The proposed development was originally submitted for 20 wind turbines, however following detailed discussions with Planning Service and statutory consultees the project was reduced to 15 turbines under a further environmental information submission in November 2010 and was granted planning consent on 18th January 2012. An application for grid connection has been submitted to NIE and currently awaits determination.
The further environmental submission considered the following environmental impacts, peat slide risk assessment, detailed SuDS drainage design, fisheries studies, ecological management, bat studies, further archaeological assessment, further visual impact assessment, further haulage assessment, further shadow flicker and residential amenity assessment and revision of economic and environmental benefits.
The temporary meteorological mast was granted planning permission in April 2007 (Ref:C/2007/0811/F) and was re-submitted and approved (Ref:C/2010/0549/F) on 17th November 2010 for a further thirty six months to allow further collection of relevant wind data on site.
The turbine development has a life expectancy of 25 years, generating electricity fed back into the electricity grid and sold to a third party.
Environmental and Economic Benefits:
This wind farm would produce a net saving of approximately 56,435 tonnes of CO2 per annum through displacing fossil fuel fired generation. Over the 25 year life of the wind farm it would displace, at current comparisons, approximately 1,410,876 tonnes of CO2. To put this into perspective the wind farm will generate enough renewable electricity to power the equivalent of 25,785 homes.
The project is expected to cost up to £60m (dependent upon costs applicable at the time of spend) with an estimated £9,000,000 to be invested in the local economy on development, financing, legal arrangements, delivery, construction, materials, plant and auxiliary equipment;
TCI Renewables propose a substantial community fund of c £1500 per MW installed, payable upon operation of the wind farm. The fund will be paid annually into an independently monitored and audited scheme run by an organization such as The Community Foundation for Northern Ireland, this equates to £67,500 per annum and over £1.68 million pounds over the lifetime of the wind farm proposal
Rates payable to the Northern Ireland Exchequer of approximately £415,000 annually (dependent upon the rateable value charged), this is currently around £4000 per MW but it is estimated to increase to approximately £17,000 per MW in April 2013 under a revaluation of business rates for Northern Ireland;
Eight land owners are involved in the development. Each will receive an annual income for the lifetime of the project from the sale of electricity from the wind turbines.
Planning Application:
A planning application was submitted to Belfast Planning Service Headquarters Special Studies Division on December 14, 2007. The application was supported by a full Environmental Impact Assessment of the site and the development.
Copies of the planning application and the environmental documents above may be inspected free of charge at the following places:
Planning Service Headquarters
Millennium House
17-25 Great Victoria Street
Belfast
BT2 7BN
(028) 9041 6700
(Strictly by appointment only)
Coleraine Borough Council
66 Portstewart Road
Coleraine
Co. Londonderry
BT52 1EY
(028) 7034 7034
(Viewing by appointment only)
Glenullin Resource Centre
1 Glen View
Brockagh Road
Garvagh
Co. Londonderry
BT51 5DZ
Printed copies of the Non-Technical Summary (NTS) and the Environment Statement (ES) may be obtained from: TCI Renewables Limited.