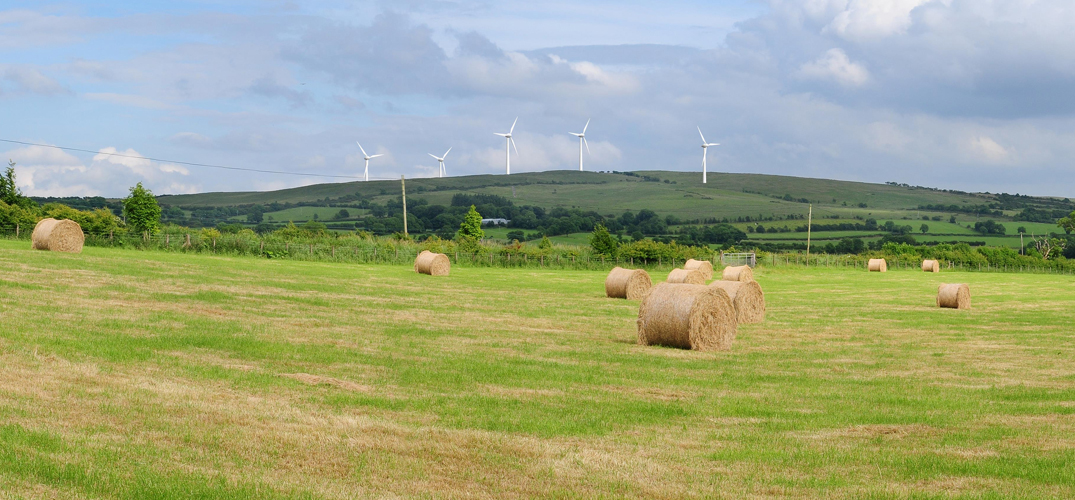 Ballyutoag
Project:
Five turbine wind farm
Location:
Land approximately 1 km North of 71 Ballyutoag Road, Belfast, Co. Antrim, Northern Ireland, BT14 8SS
Irish Grid:
327938, 379634
Altitude:
c.300 m ASL
Capacity:
11.5 MW
No. of Turbines:
5
Turbine Config:
Hub Height – up to 57m
Rotor Diameter – up to 71m
Overall Height – up to 92.5m
Rating – 2.3 MW
Planning Status:
Granted planning permission 21 December 2015
Current Status:
Subject to grid connection/intensive energy connection arrangement
Resources:
Non-Technical Summary
Location:
The proposed development site is located in an area of rough grazing pasture, approximately 1 km North of 71 Ballyutoag Road, Belfast, Co. Antrim, Northern Ireland, BT14 8SS.
Summary:
The proposed development will comprise 5 wind turbines, up to a maximum of 92.5m base to blade tip height (Up to 57m hub height and up to 71m blade diameter), associated transformers, a permanent anemometer mast, extension of existing and construction of new site access tracks, gates and road improvement works at the site entrance, substation and site control room, communication tower, electrical cabling, temporary site compound and all other associated and ancillary works. The development has an operational life expectancy of 25 years, generating electricity which will be fed back into the national grid system and sold to a third party.
Ballyutoag Wind Farm Ltd. c/o TCI Renewables Limited, commissioned various detailed independent technical studies to be carried out between 2013 and 2014 to assess the potential for the proposed development to impact on a wide range of environmental aspects. Full ecology studies, including birds, bats, flora & fauna, noise studies, landscape and visual impact assessments, shadow flicker analysis, geology, hydrology and archaeological assessments were carried out. The findings of these surveys are presented within the Environmental Statement which accompanies the application. This document was submitted to the Planning Service Headquarters, Strategic Planning Office, based at Causeway Exchange, 1-7 Bedford Street , Belfast, BT27EG, for their consideration.
Environmental and Economic Benefits:
The wind farm will produce a net saving of approximately 14,945 tonnes of CO2 per annum through displacing fossil fuel fired generation. Over the 25 year life of the wind farm it will displace, at current comparisons, approximately 373,619 tonnes of CO2. Based on British Wind Energy Association figures for average annual UK household electricity consumption of 4,229 kWh at the date of submission into planning, this development will provide the equivalent electricity for approximately 8,145 homes every year based on the proposed model of turbine and associated forecast wind speeds.
In addition to the environmental benefits Ballyutoag Wind Farm will deliver real and tangible benefits at a local level. Once the wind farm is operational a dedicated community fund will be established into which an annual fund of £2,500 – £3,000 per installed megawatt will be committed for the 25 year lifetime of the project – such range of contribution being dependent upon project financing influences such as the cost of radar mitigation solutions, annual rates payments and costs associated with wind farm grid connection at the time of construction.
An estimated £14.6 million will be spent in the delivery of this project and of this, an estimated £2.19 million will be spent in the local economy in project development, financing, legal arrangements, delivery, construction, materials, plant and auxiliary equipment. The wind farm will also offer the farming landowners an option for diversification in attainment of annual income from the sale of electricity in addendum to maintaining agricultural revenues through current land use for upland grazing.
Planning Application:
Submitted to Belfast Planning Service Headquarters, in Mid November 2014. The planning application was accompanied by a full Environmental Impact Assessment. Copies of the planning application and these associated environmental documents may be inspected free of charge (by prior appointment only) at:
Department for Infrastructure
Planning
Clarence Court
10-18 Adelaide Street
BELFAST
BT2 8GB
T: 0300 200 7830
Alternatively, electronic copies may be obtained in CD format by contacting TCI Renewables Limited.